We link up with other bloggers to become a secret encourager. Its a great way to get to know other bloggers and to try and help them do what they do best!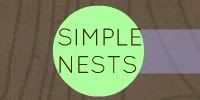 Ironically enough, Liz was planning a trip to the city (New York City), where I live, during the time I was following/stalking her. I did my best to have others give advice and support her trip.
I also spent some time tweeting about her and linking her up on my site.
One of my favorite posts of hers was her post on Pizza, When sucky days hit, make pizza. I mean How can you not love a post centered around pizza?
I definitely recommend you stopping by Simple Nests

and get to know Liz.
If you are interested in being a Blog Angel for August, I encourage you to stop by Craftbotics.