I am so absolutely excited to have Kristina on the blog today. She blogs at

From City Corporate to Suburb Mama

. She is also a close friend of mine! I'm so honored that she agreed to Guest Post! She's got a great give-a-way below.
--------------------------------------
Hey lovelies! I'm so happy to be guest posting for Kim while she's away! Kim is a longtime dear friend and now I just love that we can also be bloggy friends together as well!
Today, I'd love to share a little passion of mine...approaching health holistically. This journey started last year, when our youngest son developed severe eczema. While the steroid creams and antibiotic creams were working, as soon as I stopped applying them, his eczema would return full force. It was so frustrating and I quickly realized I was only treating a symptom, not the root issue. That began our search to better understand our bodies, food and how they relate to each other as well as more holistic approaches to soothing and treating his eczema. If you're interested or have similar skin issues, I'd love to have you read up on it all here.
During that time, I discovered hard lotion. It's completely natural, you can pronounce all the ingredients and easily recognize their source and what they are and it's amazing stuff!! I truly believe that God provided in nature all that we need to have health and a full life. He's that amazing! And, as I started to learn and discover, I was sold on hard lotion. My only issue was that it was too hard. I had an infant who quickly became irritated as I waited for the hard lotion to soften up in my hands so that I could apply it to his skin and I realized I needed to perfect my own recipe.
This was the very beginning of Organic Mami, my etsy shop where I sell coconut lotion, lip balm and non petroleum jelly (think Vaseline and Aquaphor without the petroleum). I offer a variety of essential oils and options and it's such a joy to hear of others trying and experiencing the benefits of solid lotion for themselves. And, during the time that our son really struggled with his eczema (before we discovered all of his allergies) the lotion was the only thing that soothed the itch and relieved his dry, weepy skin.
I'm so excited to offer a some of this lotion to one of you today!
This giveaway includes 1, 4 oz. custom coconut lotion and 1, 1oz. custom coconut lip balm.
And, I'd also like to offer a 20% off discount for all of you as Kim's readers. Just use code KIMREADER.
Thanks so much, Kim, for having me here today! Happy Entering!

--------------------------------------------------------------------------------------
Thanks Kristina for Guest Posting today. Stop by her blog. She's hosting Tuesday Tango with a few other lovelies. Its a great way to meet new friends!
She also has another great Group Give-a-way happening.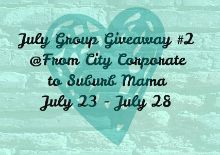 Have a great week!