Prayer is such a key part of my faith. I don't pretend to have it all figured out. In fact, I wish i understood it more. But I do know the power that is behind it. For 8 weeks, my staff has been getting together to pray for our fellow staff member,
Rickey
, who was in an accident. We get together to pray for his recovery, for his journey and his family. I have been to most of the meetings, not because i think its some magical pill we can take to make Rickey all better but because there is something so sweet and precious about people coming together to pray for their own. To join God in what he's doing, even when we don't understand it.
For those who are not "religious," I know you checked out a while ago. And that's ok. But for those who didn't. Let me say thanks for stopping by and thanks for reading on. All I want you to know is I want to pray for you. I want to lift you up to my Lord! How can I do that for you? Are things not looking good for you? Are they looking great, but something seems off? Are they just good and you are simply grateful? Either way, I'd love to join you in whatever stage you are in and pray with and for you. It doesn't matter how big or small, I'd love the opportunity to pray with you.
My friends over at
CityCorporatetoSuburbMama
and
Covered in Grace
wrote posts this week offering up their prayers in intercession for their community. I would love to join them and many other bloggers in the same effort, called "Prayer Warriors". I am not claiming to be super christian, here to save the day, but I do know the Man who can. I'd love a chance to pray for you. To lean into what God is doing in your lives. I'd love to get to know you better and I'd love that to start with how I can be praying for you. Feel free to leave a comment below or to
email me
if you have something you'd like to share or be prayed for. I promise i will keep it confidential unless you'd like to share your name to my readers.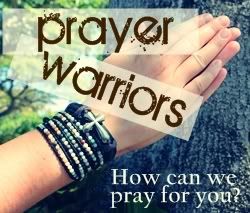 For more Prayers click on the image above.
I am excited to see what God is going to do through our prayers for each other. How will He teach us, grow us, love us through this?