Hi Friends! Happy Tuesday!
Today, I have Jelli from
Jellibean Journals
sharing a little about herself and her life in Costa Rica. I've loved having Jelli on my blog this month, getting to know her more. She's such a genuinely sweet and kind person! Take some time to day to get to know her. Stop by her blog when you are done. She's got great recipes and ideas happening! Like this one and this one... oh and this one.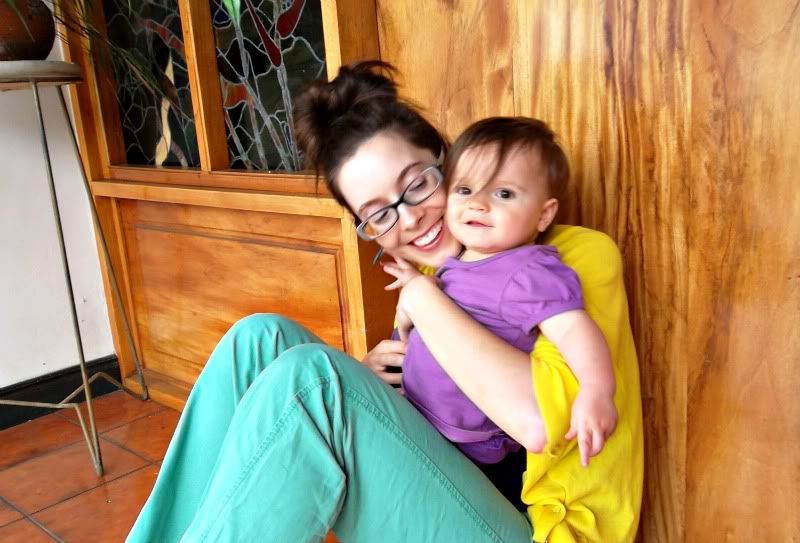 Hi, I'm Jelli!
I blog about mommyhood, DIYs, and baking over at Jellibean Journals. I'm a semi-SAHM in Costa Rica, loving on my little brown-eyed girl and praising God for the opportunity to work for Him alongside my specTACular husband. To make a long story short, my Prince Charming is a Tico, and we've made our cozy castle casa in the tropics…for now.
Tell us about Jellibean Journals.
Jellibean Journals began as a baking blog to share the kitchen creations I was selling for friends at Husband's workplace. Jellybean is a nickname I've grown up with coined by my aunt. Uncertain about internet privacy when I began blogging, I adopted JBJ and opted for the screen name "Jelli."
Nowadays my cutie brown-eyed baby's face is plastered all over the blog where I share about our
family's adventures
in Costa Rica,
DIYs
,
Jesus
, and sweet
treats
. I've got a sweet tooth the size of a Ben & Jerry's factory, so you'd better believe I've stayed true to the roots of JBJ, even if I do veer a lot more toward
mommyhood
life posts.
What are 5 things you'd rather not live without?
5. Cadbury Dairy Milk or Lindt Milk Chocolate bars
If you could visit anywhere in the world (money is no object), where would it be? I would return to the Abruzzo region of Italy where my family spent 3 months this spring working with Youth with a Mission. The people there were the friendliest I've known, the high green mountains gorgeous, food (pizza, gelato, seafood) luscious, and my heart overwhelmed by God's work in that place. Francavilla al Mare, where we stayed, also happened to be one of the cleanest cities I've visited, and boasted children's play areas and parks scattered abundantly throughout the city. The kitchens had a great design feature too.
If a stranger gave you $5 and said use it for yourself, what would you spend it on?
Likely, I'd treat my husband and I to ice cream cones. You can bet I'd have chocolate brownie on a sugar cone, and he'd choose an awkward fruit flavor, like mango, and have it choco-dipped.
------
Thanks Jelli for stopping by! Make sure you stop by and visit Jelli's blog!
Have a great week!
-------------------------------------------
{Post Sponsored by This Lovely}